This past week was one of the craziest, most enjoyable weeks of my senior year. First of all, I was chosen to be one of the two graduation speakers at, well, graduation! Twenty-one people tried out. And I made it. Awesome!
International assembly was also this week. (It's an assembly to show off the diversity of cultures at our school.) I decided to model for America (who better to represent the contry of diversity than me?) I put together the most pitch-perfect, classic, Ralph Lauren-esque ensemble and modeled it at the assembly ("modeling" in this post means walking across the gym.) This is what I wore.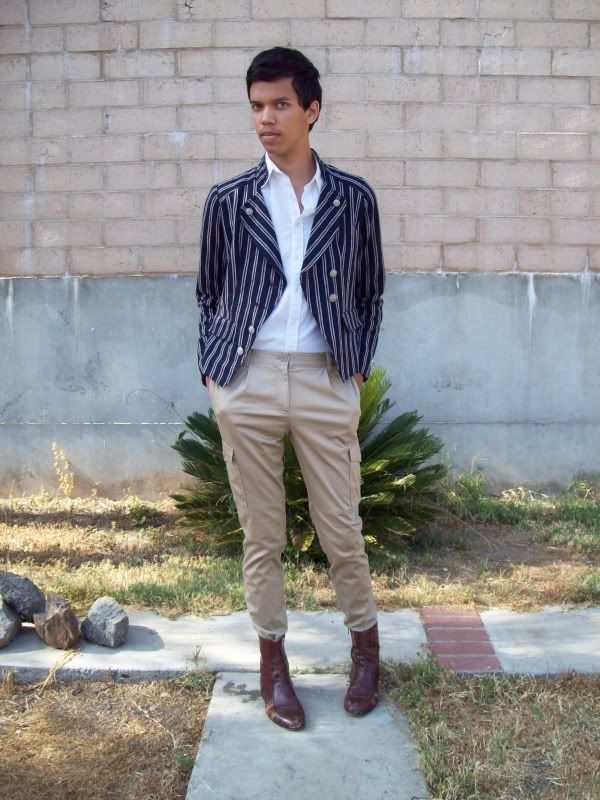 Very American, right?
Then, on Friday, I had Rebel Show to do. This was the big one. My last high school performance. Ever. I performed none other than Lady Gaga's "Pokerface" and from what I heard, I rocked it. I closed the show, and I made sure that it was the perfect ending to a good show. I wore something very Lady Gaga as well.
It was exactly what I wanted to wear for this performance, too. Notice the wig on my arm. I had to piece of Gaga somewhere! I was inspired by this:
Martin Margiela Spring '09
I ended up not winning any awards for it, but a few of the best teachers at my school gave me a standing ovation, so I was satisfied.
In terms of my style right now, I am playing with the Japanese avant-garde. I'm really pulling from Junya Watanabe's Fall '06 collection, as well as anything by Comme De Garcons. I think I'm going to stick with this look for Summer. At the moment, I'm wearing army-green jodhpurs, a white v-neck, and black patent oxfords.
Junya Watanabe Fall '06
Comme De Garcons Fall '08
A pair of interesting Comme De Garcons oxfords from fall '08
Comme De Garcons Fall '09
Whew! What a post. Until next time.